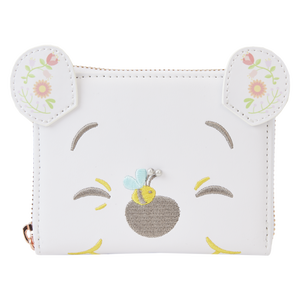 Winnie the Pooh - Floral Folk Cosplay 4" Faux Leather Zip-Around Wallet
Stop and enjoy the flowers with Loungefly's gorgeous Winnie the Pooh inspired collection!
In 1926, the world first met Winnie-the-Pooh, a stuffed anthropomorphic teddy bear inspired by a toy owned by A.A. Milne's son. A collection of stories about a boy based on Milne's son and his adventures with Pooh and all his friends delighted the world, and since joining the Walt Disney family in 1961, adoration for the franchise continues to grow.
On the front, Winnie the Pooh delights in a visit from a bee that has landed on his nose. Pooh's adorable face comes to life in embroidery—and the bee has beaded details for the antennae and eyes. Embroidered floral elements decorate Pooh's applique ears, which stick up at the top. On the back, the floral elements repeat, with an encore appearance from the bee. Inside, you'll find 4 slots for holding cards and 1 clear slot for displaying your ID. A die-cut shape of a honeypot adds a touch of fun. Meet up with Pooh and his friends for an adventure, or simply stroll through your neck of the woods in fresh pop-culture style.
Product Features:
Faux leather

Applique and embroidery

Printed details