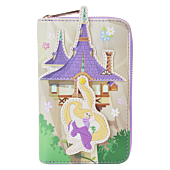 Tangled - Rapunzel Swinging From Tower 4" Faux Leather Zip-Around Wallet
The best day ever is in full swing with Loungefly's Tangled inspired collection!
In Disney's Tangled, Rapunzel is taken as a babe from her royal parents by Mother Gothel to exploit her magical healing hair. Locked away in a tower in a hidden valley, Rapunzel grows curious about the outside world and asks Mother Gothel if she can leave to see the lanterns that appear in the sky every year on her birthday. She is denied her request and begins to lose hope. When a thief named Flynn Rider stumbles upon her tower and uses it as refuge, Rapunzel strikes a deal with him to help her escape.
This accessory is perfect for a quick getaway, in style. On the front, Rapunzel escapes the confines of the tower, swinging down by her glorious hair—and she moves on a rivet! The applique spire of the tower rises up over the top. On the back, Rapunzel makes an encore appearance, lying down in the fields of green grass, and she's holding Pascal. Flynn Rider leans against a tree in the background. Inside, there are 4 slots for holding cards and 1 clear slot for displaying your ID. A die-cut shape of the Magic Flower adds an enchanting touch. Put your favorite day plans into action with this brilliant accessory.
Product Features:
Faux leather

Applique

Printed details