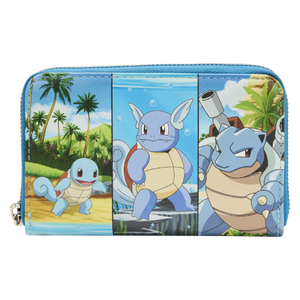 Pokemon - Squirtle Evolutions 4" Faux Leather Zip-Around Wallet
Make a splash with Loungefly's shell shocking Squirtle Evolutions collection!
Squirtle, a Water type and one of Kanto's three starter Pokemon, was introduced in the first generation. Though scarce in the wild, it can be found around small freshwater ponds, lakes and living in colonies on secluded islands. As it evolves, its water attacks become increasingly more powerful, with the capability of piercing steel and concrete in its cannon-equipped final form, Blastoise. 
Behold the powerful evolutions of Squirtle on this wallet! Set on a tropical island, the first panel shows Squirtle striking a battle-ready stance. Next, the secondary evolution Wartortle is immersed deep underwater. The last panel shows its formidable final form, Blastoise, keeping a lookout with cannons at the ready. On the back, the mightiness of Squirtle's evolutions is evident in silhouette form.
Product Features:
Faux leather

Printed details
Create a rippling effect when you accessorize with the Squirtle Evolutions Wallet!