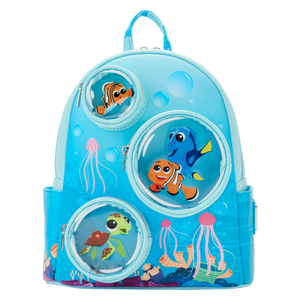 Finding Nemo - 20th Anniversary Bubble Pocket Glow in the Dark 10" Faux Leather Mini Backpack
"When life gets you down, you know what you gotta do? Just keep swimming."
Celebrate the 20th anniversary of Pixar's Finding Nemo with Loungefly's latest collection!
After his son, Nemo, gets abducted from the Great Barrier Reef and is dispatched to Sydney, Marlin, a meek clownfish, enlists the help of a forgetful fish and embarks on a journey to bring him home.
Make a splash with this adorable Bubble Pockets Mini Backpack! Journey to the ocean floor with Nemo, Marlin, Dory, and Squirt as they float in transparent bubble zipper pockets through a field of glow-in-the-dark jellyfish. Turn the bag around to see Crush and Bruce drift along the side pockets, and join Mr. Ray as he teaches his students below the bag's bubble-covered shoulder straps. Perfect for adventures on land or sea, this maritime accessory adds a splash of fun to any outfit.
Product Features:
Faux leather

Adjustable shoulder straps

Printed details