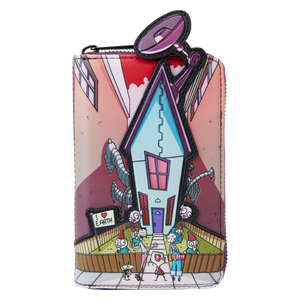 Invader Zim - Secret Lair 4" Faux Leather Zip-Around Wallet
Onward to victory! Unleash your plot to take over the world with Loungefly's Invader Zim inspired collection!
Zim dreams of greatness. Unfortunately, though, he's hopelessly inept as a space invader. Desperate to be rid of the annoying Zim, his planet's leaders send him on a mission to infiltrate Earth, providing him with leftover, cobbled-together equipment. To their consternation, Zim succeeds in setting up a base on Earth and infiltrating human culture, posing as a human child as he plots the planet's downfall.
On the front, Zim and GIR attempt to blend into their earthly surroundings. Up above, Zim's secret base is disguised as a suburban home that rises towards the sky. Turn the wallet around to explore the inner workings of Zim's lair. With four slots for holding cards and a clear slot for ID, this wallet has plenty of room to stash your schemes.
Product Features:
Faux leather

Applique

Printed details