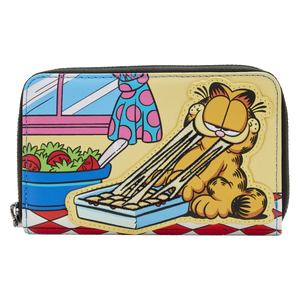 Garfield - Garfield Loves Lasagna 4" Faux Leather Zip-Around Wallet
"I love cats. I wanted a cat... So what do I do? I go to the pet store and ask for a cat. What do they give me?... A lasagna with fur and fangs."
Celebrate over 40 years of the lasagna-loving, spider-swatting, mouse-befriending candid cat, Garfield, with Loungefly's tasty new collection!
Like every great lasagna, Garfield was born in the kitchen of an Italian restaurant. As a kitten, he frolicked in fettuccine, rolled in ravioli and ate all the lasagna in sight, instilling in him a love of pasta that he harbors to this day. Despite growing up to be cynical, sarcastic and selfish, deep down Garfield loves his owner, Jon, and his dopey housemate, Odie the dog. When he's not tormenting them, Garfield can be found indulging in his passions—sleeping, watching television and, of course, eating!
This accessory tributes Garfield's favorite food—lasagna! The tubby tabby chows down on the delicious dish straight from the pan atop Jon's kitchen table on the front. Applique and embroidery enhance Garfield and his meal, while Odie forms a puddle of drool on the back of the wallet alongside Loungefly's brand plaque. 
Product Features:
Faux leather

Applique and embroidery

Printed details
Show your Garfield—or lasagna—fandom with this awesome wallet!